Bible = βίβλος = books
The Bible is comprised of 66 books written by over 40 men over 1500 years. They were inspired by God to write what He wanted written. It is the word of God.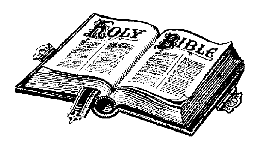 People ask, "Can the Bible be true?"
The answer is not only yes, but the Bible is truth. God plants in us a spark of truth. We are driven as if by incredible thirst to search for truth. As we read the Bible our "thirst" is satisfied. It leads us to know Jesus, who also is truth.
The first 15 chapters of Genesis deal with creation and the flood. The rest deal with the history of the nation of Israel.

The New Testament tells us the Old Testament was kept for our benefit so we would learn from their mistakes.
Mathew, Mark, Luke, John - gospels - Tells who Jesus is, what He said, What He did, and where He went.

Acts - Tells about the start of the church

Letters to churches - Tells about problems of churches and Christian life.
In both the Old and New Testaments are many declarations about the future. Many have already been fulfilled. For example, Daniel foretold the division of the empire of Alexander over 200 years before it happened.

The book of Revelation is almost all prophecy about events yet to come.